Nurture and produce the next generation of "start-ups from Matsuo Lab to promote DX (Digital Transformation) in industry
Matsuo Lab has always believed that cutting-edge technology is valuable only when it is implemented in society, and we have been working with various companies to develop and implement AI models that can be used in businesses.
On the other hand, we have been working on the development and implementation of DX (Digital Transformation) in the business field in response to high expectations for AI and data science in the industrial world.
However, we have also become acutely aware of the lack of human resources to promote DX in the business world.
Therefore, we decided to focus on fostering AI startups.
We believe that entrepreneurs with solid technical skills, new ideas, and efficient working styles provide services, and promoting DX in various industries will be the foundation of Japan's competitiveness in the future.
As a result of our entrepreneurship development activities, many startups have already left the Matsuo Lab.
To further accelerate this effort, we have systematized our entrepreneurship development program as "Kigyo Quest (Entrepreneurship Quest)".
We strongly hope the next generation of GAFAs/FAANGs will be established from this program and spread their wings from Hongo to the world.
Armed with the weapons of technical skills, and with real-world experience in hand, students will go out to explore their business field together with their teammates.
The Matsuo Lab Kigyo Quest (Entrepreneurship Quest) is a compass for students who aspire to start their businesses.
The Quest is divided into three stages, and by completing the requirements set for each stage, students will be able to participate in more advanced and practical programs.
1st stage: Getting armed
Choose one of the weapons: Data Science or Deep Learning (Deep Learning)
Train your technical skills and let's start the quest!
Register for the quest by taking a lecture from the following entrepreneurial quest-approved lectures. (The lectures are open to all students. There may be a pre-selection.)
1st stage accredited lectures
Deep Learning Spring Seminar (March) Difficulty: ★★★
Deep Learning Summer (August) Difficulty:★★★
*The World Model &Intelligence and Spring/Summer School require students to have the same knowledge as those who have completed the Basic Course in Deep Learning. Beginners students should start with the Fundamental Courses.
2nd stage: Stronger in Practice
Participate in the Certified AI Engineer Internship,
Learn how to proceed with AI implementation projects.
By participating in a certified AI engineer internship at an external company, students will acquire practical skills and business abilities such as OJT experience in development and project management, and making proposals to clients.
※Details of the 2nd stage will be announced to participants of the 1st stage certification lecture.
3rd stage: Form a team and go on an adventure

Find your teammates and step out into the real business world.
The 3rd stage is the "Biz Internship".
Students will acquire the knowledge and skills necessary to make their proposals to clients and to set up their own company.
Program Results for AY2021
In FY2021, 10 group training sessions were held during the summer vacation, and 13 students who were recognized as having acquired a certain level of skills and experience out of the 50 students participating in the 2nd stage participated in the program. The students learned about hypothetical thinking, slide writing, capital policy, etc. Three of the companies have already registered, and three more are preparing to start up by the end of 2022. (*Photo taken during a visit to ACES, a startup launched by the Matsuo Institute)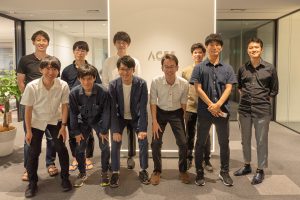 If you would like to receive notifications about Kigyo Quest (Entrepreneurship Quest), please fill out the form below (for students only).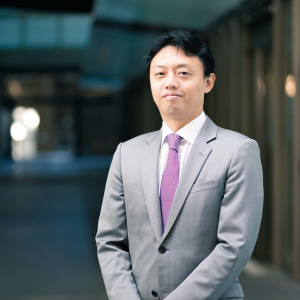 The University of Tokyo, Graduate School of Engineering, Professor
Yutaka MATSUO
<Comment from Professor Matsuo>
Today, society as a whole is in need of digital and AI technologies and the transformation of businesses through them. How to transform existing businesses and organizations, create new added value, and use advanced digital and AI technologies to do so is an urgent issue for Japan as a whole. And it is the young people with digital and AI technologies who will drive and realize this.
Universities, on the other hand, are filled with young, talented people, but the students themselves are often unaware of their own potential. They do not realize that combining digital and AI technologies with their own areas of expertise has the potential to create great value for society as a whole. They also do not have a firsthand sense of how many startups are actually being born in countries around the world, and how young people are making significant social changes one after another in collaboration with large corporations.
Of course, careers in life vary, so some people want to be researchers, some want to be civil servants. Some want to work for a large company, others want to work in their hometowns. However, I hope that establishing a startup will become a natural part of such life choices. We also hope to provide a clear path for students who are vaguely interested in the idea of starting a business but are unable to take the plunge.
The "Matsuo Lab Kigyo Quest (Entrepreneurship Quest)" is a program that abstracts the successful startup model from the Matsuo Lab and incorporates various innovations to increase the probability of entrepreneurial success. The program is designed so that participants can learn in an orderly fashion by completing each "quest": what to work on first, how to avoid unnecessary risks, how to create and grow a business, and so on. 
Although I have not succeeded in entrepreneurship, I believe that entrepreneurs are the "heroes" in this society. They gather their friends, go on an adventure, and make a big change in society. All of the large Japanese companies of today were created by such brave men and women. Of course, there have been successes and failures, and there may be people who want to be brave but cannot. However, these efforts will lead to many new challenges, more people will succeed, and their knowledge will be passed on to younger generations, increasing the probability of success. If such a situation can be realized, it will lead to the continuous creation of innovations in Japan that can compete with those overseas, and to the significant growth of the Japanese industry as a whole. 
The Matsuo Institute desires to increase the number of young people who take up the challenge of start-ups as a life option and to increase the number of successful cases that will significantly change society. We hope you will support this new initiative.
Startups launched by students who completed Kigyo Quest (Entrepreneurship Quest)